Artists
About the artists and the Welte Sisters
The artist sisters, Mercedes and Franziska Welte, create an unmistakable brand with their NONOS. Their unique sculptures combine pure joie de vivre with aesthetic eroticism, dynamic dance and extravagant sensuality. A filigree yet powerful ensemble of color, shape and movement that combine with sensuality, eroticism and femininity. The name NONOS was and is a closely guarded secret from the beginning, which has not been revealed to this day. In the search for the living and the moving, the figures become realized objects: to dancers, to athletes or even to observers. The play of movement and color makes the figures appear lively and emotional. Viewed in this way, each sculpture has its own signature. It is the writing, the trace that the artists leave behind.
The contemporary works of the NONOS artists Franziska and Mercedes Welte are an interesting examination of "form and color", which at the same time form the characteristics of their NONOS sculptures and their creators themselves: Figures that dance are made from bent steel, fiberglass, epoxy resins and lightfast pigments to combine movement and color into a flowing form of sensuality, pure joie de vivre and femininity. Through the dynamic processing as well as the play with different color, material and light surfaces envelops the NONOS a very own lightness – the strength of which, however, is the basis as an expression of the natural form. With their unmistakable handwriting, the unique pieces reflect the close ties between the artists and their objects, which leave the viewer free space: for interpretation, interaction and the creation of fascinatingly feminine worlds of movement.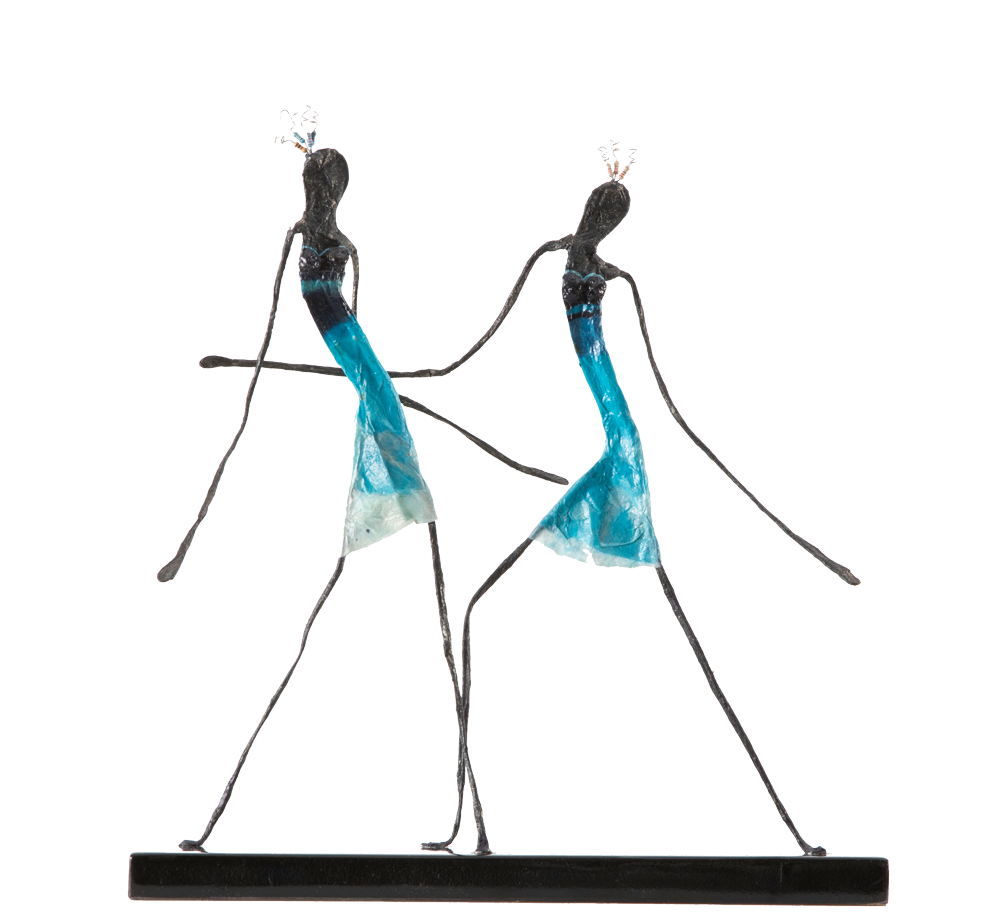 The art of the start
Beginnings of femininity
"Nothing is more powerful than an idea whose time has come."  What Victor Hugo so aptly formulated has a very special meaning for the artist sisters Mercedes and Franziska Welte.  Their first character was born out of a spontaneous inspiration  from a knowledge of doing the right thing.  From an impulse to make your own power visible, and the design to combine femininity and vulnerability in an expressive form.  The joy of movement, dance, life itself – paired with inspiring femininity that is fun and leaves room for the beholder's eye – for free interpretation and to play with the dynamics of life.
The Studio
Where impact take place
At Lake Constance – this is the place where the NONOS sculptures are created, where they begin, and where they unfold their effect.  Where the initially heavy metal is bent, welded by hand and built with a lot of feeling and love for every detail.  This is where the character begins to mature, the colors shine, the design comes to life.  The artist sisters Mercedes and Franziska Welte largely do without sketches, plans and other aids.  Rather, the sculptures are created through visually recorded impressions – on the basis of free inspiration and the exchange of streams of thought shared by the two sisters.  The dance of feelings – in combination with clear lines and free forms – that is what the NONOS are.